Join us at The Derry Opera House on March 5th, 2022 from 7pm to 10pm for Greater Derry Arts Council's Karaoke on Broadway. Admission to the event is free with receipt from a sponsoring business or $10.00 at the door (Cash Only)! Arrive early to be sure you get a spot on our list to sing! We look forward to seeing you!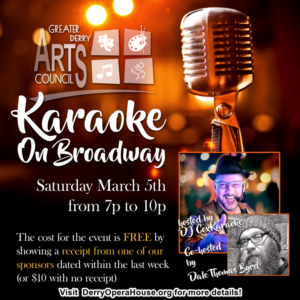 Event Information:
Date: March 5th, 2022
Time: 7:00 pm – 10:00 pm (Doors Open at 6:30 PM)
Admission: $10.00 (Cash Only) or Free Admission with Receipt from Sponsor (Dated between 2/25/2022 and 3/5/2022)
Concessions will be on sale Light Snacks and Soft Drinks (Cash Only)
Karaoke On Broadway Event Sponsors:
Visit any of these fine sponsors (listed below) during the week of 2/25/2022 through our event on 3/5/2022 to take advantage of free admission to the event! Just present your receipt at the door!
Brad Gagne: One Night Only on (West) Broadway!
Event Photos: